Ultra Low Carb Flour
Grow Fit's Ultra Low Carb Flour is the lowest carb flour in the market! This is the ideal flour to reduce your carbohydrate intake, manage blood sugar and even helps with inflammation. It's also great for weight loss. This flour is the whole package, so it's a must have to maintain your low carb diet.
Serving size: A 500g pack can make 12 medium rotis.
Get a free diet chart and nutritional consultation from India's best nutrition experts along with this product.
Grow Fit's Ultra Low Carb Flour


Energy 185 kcals
Protein 12 g
Carbohydrates 12 g
Fat 10 g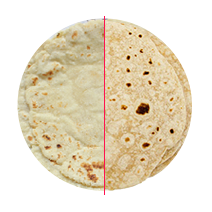 Your Regular Atta


Energy 110 kcals
Protein 3.2g
Carbohydrates 23g
Fat 0.5g
Delivery
We deliver our packaged foods across India.
Time to ship - Upto 72 hrs (as we mill the flour fresh).
Delivery time could vary depending on your location.
Write to us at
hello@getgrowapp.com
or call us
08039658868
Ingredients
Flax Seeds

Sesame Seeds
Soybean

Isolated Wheat Protein

Flax Seed

Bamboo Seed

Almond Flour

Chicory Root Extract

Oligosaccharide

Sesame Seeds

Psyllium Husk
CONTRAINDICATION: Due to the high protein content, we would not recommend the product to those suffering from any liver and kidney problems.
Why order from Grow Fit.
Grow Fit is a wellness company and not an on-demand restaurant. Our Programs are formulated to improve your health using scientific nutrition. People of all ages and lifestyle have used Grow Fit to achieve their health goals.
Backed by research
Our programs are based on medical protocols and supervised by a medical doctor.
The Science
Did you know we have a team of doctors and food scientists who have made sure every single product has the right mix of the right ingredients and in the right amounts, down to a T? The science is quintessential to meet your health goals.
International hygiene standards
Our ISO 22000 standard kitchen operates according to international standards
Complimentary nutritional support
Post purchase of each product, you can consult with a nutritionist to ensure that you achieve your health goals.
Supports your lifestyle
Vegan ? Halal ? No problem - we've got your back.
FAQ
Who is it for?
Looking to lose weight or keep your sugar levels in control? This is the ideal atta for you!
Why should I buy it?
Grow Fit's Ultra Low Carb Roti Flour makes you  feel fuller for longer and hence would reduce the urge to snacking. No afternoon sleepiness is felt post consumption of rotis made from this atta. Due to lower insulin spikes, this inhibits fat-storage and increases basal metabolic rate when compared to normal roti. This atta improves gut health by aiding  in clearing the gut. It helps you manage weight, blood sugar management and helps with inflammation. It is also a great source of omega- 3 and iron.
Shelf life - 3 months
How do I use it?
Replace regular roti atta with Grow Fit's Ultra Low Carb Atta.

Suitable for making rotis and parathas

Use Hot Water for kneading

Allow dough to sit for 10 minutes before rolling