Muscle Millet Atta
The Muscle Millet Atta is suitable for those who want to gain muscle. The low Glycemic Index levels of millet increase the body's sensitivity to insulin. Millets are high in protein and help build white muscle through slow-release carbs combined with the added protein our R&D team has added. Additional benefits including being part of a heart-healthy diet to reduce blood cholesterol levels, helping improve diabetes control, reducing hunger and keeping you fuller for longer.  
Shelf life - 45 days
Get a free diet chart and nutritional consultation from India's best nutrition experts along with this product.
Grow Fit's Muscle Millet Atta


Energy 108 kcal
Protein 8.4g
Carbohydrates 16.1g
Fat 0.7g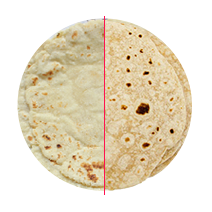 Your Regular Atta


Energy 110 kcal
Protein 3.2g
Carbohydrates 23g
Fat 0.5g
Delivery
We deliver our packaged foods across India.
72 hrs (as we mill the flour fresh).
Delivery time could vary depending on your location.
Write to us at
hello@getgrowapp.com
or call us
08039658868
Ingredients
Emmer

Islolated Wheat Protein

Millet
What's in it?
Pearl Millet

Wheat Berries

Isolated Wheat Protein

Guar Gum

Xanthan Gum

Chicory Root Extract

Oligosaccharide

Psyllium
CONTRAINDICATION: Due to the high protein content, we would not recommend the product to those suffering from any liver and kidney problems.
Why order from Grow Fit.
Grow Fit is a wellness company and not an on-demand restaurant. Our Programs are formulated to improve your health using scientific nutrition. People of all ages and lifestyle have used Grow Fit to achieve their health goals.
Backed by research
Our programs are based on medical protocols and supervised by a medical doctor.
The Science
Did you know we have a team of doctors and food scientists who have made sure every single product has the right mix of the right ingredients and in the right amounts, down to a T? The science is quintessential to meet your health goals.
International hygiene standards
Our ISO 22000 standard kitchen operates according to international standards
Complimentary nutritional support
Post purchase of each product, you can consult with a nutritionist to ensure that you achieve your health goals.
Supports your lifestyle
Vegan ? Jain ? Halal ? No problem - we've got your back.
FAQ
Who is it for?
For all the millet lovers.. This atta is for you! This atta is recommended for :
Weight management, improved digestion, diabetes management, sugar control.
Why should I buy it?
With just 16g of carb per roti, this atta is an easy way to cut carbs for the entire family and a wholesome option no matter which dieting school you adhere to.
Low carb, significant source of protein.
Shelf life - 45 days
How do i use it?
Use Hot Water for kneading

Allow dough to sit for 10 minutes before rolling

Replace regular roti atta with Grow Fit's Pearl Millet Atta

Suitable for making rotis and parathas