Ultra Low Carb Meal Replacement Smoothie (Vegan) - Pack of 7
A healthy, low-carb meal has tremendous benefits including weight loss, improved blood sugar levels and fatty liver. Wouldn't you want to adopt this diet right away? Think of a healthy, low carb meal and now just replace that whole meal with a smoothie from this mix.  350 calories, < 30g carbohydrates and a more complete protein in pea protein!
Vegans, unite. Now you can keto with the best of them.
Get a free diet chart and nutritional consultation from India's best nutrition experts along with this product.
Grow Fit's Smoothie (100g premix serve)


Energy: 559 kcal
Protein: 23.1g
Carbs: 14g
Fats: 50.7g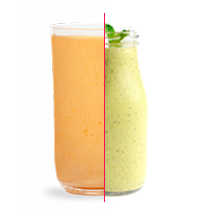 Your Regular Smoothie (100g)


Energy: 100 kcal
Protein: 10g
Carbs: 9g
Fats: 2g
Delivery
We deliver our packaged foods across India.
Time to ship - 3 days
Delivery time could vary depending on your location.
Write to us at
hello@getgrowapp.com
or call us
08039658868
Ingredients
Chia Seeds

Chicory Root Extracts

Coconut Milk

Flax Seeds

White Kidney Beans Extracts
Coconut Milk Powder
Isolated Pea Protein
Erythritol
Steviol Glycoside
Palatinitol
Edible Vegetable Oil (Packaged Separately)
Chia Seeds
Carrageenan (INS 407)
Xanthan Gum (INS 415)
Chicory Root Extract
Oligosaccharide
Green Tea Extract
White Kidney Bean Extract
Chromium Piccolinate
Cinnamon
CONTRAINDICATION: Those with allergies to nuts or soy. Those with liver or kidney diseases.
Why order from Grow Fit.
Grow Fit is a wellness company and not an on-demand restaurant. Our Programs are formulated to improve your health using scientific nutrition. People of all ages and lifestyle have used Grow Fit to achieve their health goals.
Backed by research
Our programs are based on medical protocols and supervised by a medical doctor.
The Science
Did you know we have a team of doctors and food scientists who have made sure every single product has the right mix of the right ingredients and in the right amounts, down to a T? The science is quintessential to meet your health goals.
International hygiene standards
Our ISO 22000 standard kitchen operates according to international standards
Complimentary nutritional support
Post purchase of each product, you can consult with a nutritionist to ensure that you achieve your health goals.
Supports your lifestyle
Vegan ? Jain ? Halal ? No problem - we've got your back.
FAQ
Who is it for?
This smoothie is ideal for someone looking to get healthy or follow a ketogenic diet with the least amount of fuss.
Why should I buy it?
High in fibre and low in carbs, with a balanced ratio of carbs, fats and proteins.
Comparison to other products
Our smoothies have the highest protein than any other smoothie in the market. The pea protein used in the preparation of this smoothie provides complete protein, which is a better quality of protein.
Shelf life - 45 days
How do i use it?
Blend the contents with water.

Refrigerate it until cold.