Bamboo Seed Dosa
An all-time South Indian classic, dosa is ubiquitous in India. Just a bite of those thin, wafer-like crepes loaded with flavourful masalas transports you to heaven. Did you know that the 'dosa' is listed on the World's 50 most Delicious Foods? Missing out on enjoying this delicious breakfast due to its high sugar content? Not anymore! Try our High Protein Bamboo Seed Dosa mix and you'll vouch for the rankings as well.
Get a free diet chart and nutritional consultation from India's best nutrition experts along with this product.
Grow Fit's Bamboo Seed Dosa (1 x 35g)


Calories: 70 kcal
Unsaturated Fat: 1.3g
Saturated Fat: 0g
Total Carbs: 10.6
(a) Complex Carbs: 10.6g
(b) Sugars: 0g
Fiber: 2g
Protein: 7.5g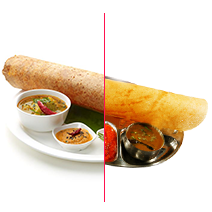 Regular Home Made Dosa (1 x 35g)


Calories : 75 kcal
Unsaturated Fat: 0.3g
Saturated Fat: 2.7g
Total Carbs: 11g
(a) Complex Carbs: 8g
(b) Sugars: 3g
Fiber: 0.2g
Protein: 2g
Delivery
We deliver our packaged foods across India.
Time to ship -  3 days
Delivery time could vary depending on your location.
Write to us at
hello@getgrowapp.com
or call us
08039658868
Ingredients
Arrowroot

Bamboo Seeds

Isolated Pea Protein
Bamboo Seeds

Urad Dal

Isolated Pea Protein

Methi seeds

Arrowroot
CONTRAINDICATION: Those with nut allergies, soy allergies, dairy intolerance, Irritable Bowel Syndrome (IBS), Inflammatory Bowel Disease (IBD), liver or kidney diseases.
Why order from Grow Fit.
Grow Fit is a wellness company and not an on-demand restaurant. Our Programs are formulated to improve your health using scientific nutrition. People of all ages and lifestyle have used Grow Fit to achieve their health goals.
Backed by research
Our programs are based on medical protocols and supervised by a medical doctor.
The Science
Did you know we have a team of doctors and food scientists who have made sure every single product has the right mix of the right ingredients and in the right amounts, down to a T? The science is quintessential to meet your health goals.
International hygiene standards
Our ISO 22000 standard kitchen operates according to international standards
Complimentary nutritional support
Post purchase of each product, you can consult with a nutritionist to ensure that you achieve your health goals.
Supports your lifestyle
Vegan ? Jain ? Halal ? No problem - we've got your back.
FAQ
Who is it for?
This breakfast is for all.. No matter what your health goal is (that is, if you even have one)!
Also, this makes a great ready to breakfast for those of you on a Slow Carb High Protein Diet who feel like having dosa for breakfast.
Why should I buy it?
Most diabetics feel it is safe to eat idli and dosa made of rice and urad dhal. This is definitely a misconception. The High Protein Bamboo Seed Dosa Mix is an excellent breakfast option for diabetics as it slowly releases carbs over a period of time and has a high protein content. Try these along with sambar and chutney and you will most definitely join the High Protein Bamboo Seed Dosa Fan Club.
Shelf life - 45 days
How do i use it?
Mix 1 cup High Protein Bamboo Seed Dosa Mix with ½ cup water

Stir to form a batter

Keep adding small amounts of extra water while stirring until the batter is smooth

Do not allow any lumps to remain

Allow the batter to sit for at least 30 minutes before stirring again and cooking on tawa

Use a tawa on low heat along with a healthy oil

Cook it like a regular dosa