Hi Fibre Cookie
Made from rolled oats and whole wheat, this high fiber cookie melts in your mouth. One of our all-time hits. Replace your tea-time biscuits with our high fiber cookies for a filling yet delicious snack. This would be a great lunch-box addition for a child's snack box or pre-game snack. Not to forget - this is an egg free cookie!
Shelf life: 10 days
Get a free diet chart and nutritional consultation from India's best nutrition experts along with this product.
Grow Fit's High Fiber Cookies (2 numbers)


CookiesCalories: 288 kcal
Unsaturated Fat: 6g
Saturated Fat: 10g
Complex Carbs: 18.2g
Fiber: 6g
Protein: 4.2g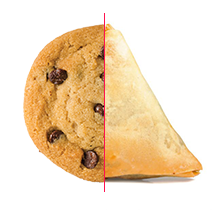 1 Samosa


Calories: 308 kcal
Unsaturated Fat: 7g
Saturated Fat: 4g
Complex Carbs: 32g
Fiber: 2g
Protein : 5g
Delivery
We deliver our packaged foods across India.
Time to ship - 1 week
Delivery time could vary depending on your location.
Write to us at
hello@getgrowapp.com
or call us
08039658868
Ingredients
Chicory Roots

Emmer

Rolled Oats
Rolled Oats

Whole Wheat

Butter

Chicory Root Extract

Erythritol

Isomalt

Steviol glycoside

Oligosaccharides

No preservatives or flavouring
CONTRAINDICATION: Anyone with symptoms of Irritable Bowel Syndrome (IBS) or Inflammatory Bowel Disease (IBD).
Why order from Grow Fit.
Grow Fit is a wellness company and not an on-demand restaurant. Our Programs are formulated to improve your health using scientific nutrition. People of all ages and lifestyle have used Grow Fit to achieve their health goals.
Backed by research
Our programs are based on medical protocols and supervised by a medical doctor.
The Science
Did you know we have a team of doctors and food scientists who have made sure every single product has the right mix of the right ingredients and in the right amounts, down to a T? The science is quintessential to meet your health goals.
International hygiene standards
Our ISO 22000 standard kitchen operates according to international standards
Complimentary nutritional support
Post purchase of each product, you can consult with a nutritionist to ensure that you achieve your health goals.
Supports your lifestyle
Vegan ? Halal ? No problem - we've got your back.
FAQ
Who is it for?
Are you a big snacker? Love your chai with biscuits or pakoda.. We have found a healthier option just for you!
Why should I buy it?
Grow Fit's HiFiber Oats Cookies are prebiotic cookies. These delicious low carb cookies will satisfy your snack craving and also keep you fuller - 2 of these cookies are all it takes to put an end to your hunger pangs!
Net weight - 100g(Each pack contains three cookies)
Shelf life - 10 days