Balanced Puffed Amaranth Breakfast
For the pre-Columbian Aztecs, Amaranth was not only a dietary staple but was even included in their religious rituals. This super grain has about the same yield as many other commonly used grains like rice and a similar nutritional value to quinoa, which makes it well worth looking into.  Amaranth doesn't contain any gluten, which makes it a great choice for people who are celiac or gluten intolerant. All this makes it an excellent way of starting your day!
Get a free diet chart and nutritional consultation from India's best nutrition experts along with this product.
Grow Fit's Balanced Puffed Amaranth Breakfast


Calories: 518 kcal
Carbs: 28.5g
Protein: 23.5g
Fat: 19g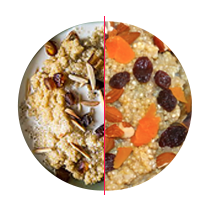 Your Regular Cereal


Calories: 379 kcal
Carbs: 68g
Protein: 13g
Fat: 7g
Delivery
We deliver our packaged foods across India.
Time to ship - 3 days
Delivery time could vary depending on your location.
Write to us at
hello@getgrowapp.com
or call us
08039658868
Ingredients
Almond Meal

Amaranth

Flax Seeds
Puffed Amaranth Seeds

Almond Meal

Chia Seeds

Isolated Milk Solids

Whey Protein

Flax Seeds

Erythritol

Steviol Glycoside

Palatinitol

Oligosaccharides

Permitted flavours
CONTRAINDICATION: Those with nut allergies, soy allergies, dairy intolerance, Irritable Bowel Syndrome (IBS), Inflammatory Bowel Disease (IBD), liver or kidney diseases.
Why order from Grow Fit.
Grow Fit is a wellness company and not an on-demand restaurant. Our Programs are formulated to improve your health using scientific nutrition. People of all ages and lifestyle have used Grow Fit to achieve their health goals.
Backed by research
Our programs are based on medical protocols and supervised by a medical doctor.
The Science
Did you know we have a team of doctors and food scientists who have made sure every single product has the right mix of the right ingredients and in the right amounts, down to a T? The science is quintessential to meet your health goals.
International hygiene standards
Our ISO 22000 standard kitchen operates according to international standards
Complimentary nutritional support
Post purchase of each product, you can consult with a nutritionist to ensure that you achieve your health goals.
Supports your lifestyle
Vegan ? Jain ? Halal ? No problem - we've got your back.
FAQ
Who is it for?
This breakfast is for all.. No matter what your health goal is (that is, if you even have one)!
Plus, amaranth is completely gluten-free and suitable for those with celiac's disease. What's more, it is an especially digestible grain, making it a traditional food for people recovering from illness or transitioning from a fast or cleanse.
Why should I buy it?
Vegetables and grains are often lacking in lysine and methionine (essential amino acids). Like quinoa, amaranth is an especially high-quality source of lysine and methionine, which helps the body absorb calcium, build muscle, and produce energy. Amaranth is packed with minerals such as iron, calcium, magnesium and copper. Not to forget, its fiber content is triple that of wheat.
Amaranth provides ½ the daily requirement of protein for a healthy person. Need we say more? Go on.. Start reaping the benefits of an amaranth-rich diet with our Balanced Puffed Amaranth Breakfast!
Net weight - 300g (100g is 1 serving)
Shelf life - 15 days
How do i use it?
To enjoy a bowl of cold amaranth:
Take 4 tablespoons of amaranth in a bowl

Add 1 cup of milk

Place it in the refrigerator for 10 minutes

Start your day with this healthy breakfast
To enjoy a bowl of hot amaranth:
Take 4 tablespoons of amaranth in a bowl

Add 1 cup of milk

Microwave on high for 1 minutes

Enjoy your bowl of piping hot amaranth